Poolside. Sun. Tan. Out to eat. Concert. Strawberry Shortcake. Fried Dough. Sleeping in. Family. Mama Grace.
The past few days have consisted of these marvelous things. Believe it or not, these things take priority over blogging. Not sure how I made it through with all the delicious food, the company, the sun and the perfect glow to my skin, it really was
not that
hard. I do have many pictures and posts to come. I am sure my leave of absence was noticed by all, you may have had some withdrawals and I send out my deepest apologies, but don't worry Mama Grace leaves early in the morning and with my new job as a housewife I will have
plenty
of time to embellish on my life that I am sure you are all dying to know about.
Side note: Did anyone see House last night? It was pretty funny, it was about a blogger.
Anyways today over at The
Undomestic Momma
it's Top 2 Tuesday. This is my first time doing this, how could I resist not joining in on the subject of top baby names?? I have had baby names planned since I was a little girl and I can not wait to one day put a precious little face to these names.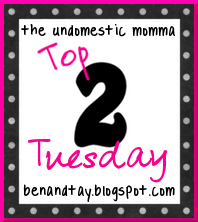 Top Girl Names:
(Most of the names I pick sound beautiful until you put in my last name. Once

Smelser

is added it just doesn't quite have the same ring to it, hopefully over time I will be able to look past that

minor

detail. All the girls names I pick have Grace as the middle name because it's my maiden name, I love it, I miss it and I haven't thought of any other middle names yet. It's on my list of things to do and will be taken care of in these days of unemployment.)
I am in love with Layla Grace. This is my number one girl name right now, I fell in love with this name when I heard of this
little angel
.

At such a young age she has touched so many lives. She passed away this morning, please keep her family in your prayers through this difficult time.
Also love Ella Grace. When Smelser is added, my parents were quick to inform me that her nickname may be "Ella Smella", it's okay, that's cute too?
I have also always loved Ryleigh Grace
Top Boy Names:
Andrew James
Owen Michael
Jackson Brady
Time will tell if Mr. B and I will have enough babies for these names. A girl can hope :)