Forgot today was
Top 2 Tuesday
over at
The Undomestic Momma
and I wanted to join in on that fun too! Today's topic is celeb styles and my top 2 (there are so many it's hard to choose!) are Carrie Underwood and Jennifer Aniston. Of course this is more than just choosing their styles, it's their whole package-- hair + body included.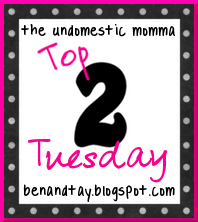 1.
Carrie Underwood.
If I could look like any celebrity it would be her. Love her personality, she is so sweet
(like I have talked to her and know her in person)
, she is gorgeous, love her hair, love her voice, love her.
2.
Jennifer Aniston.
She is a natural beauty. Her dress up look or casual look, she looks amazing and pulls it off either way. If only it was that easy in real life. Also love her personality (Now her personality I actually know-unlike Carries'- because she hung out with my friends Regis and Kelly yesterday and I was pretty much in the room with them).
Original Post:
The Grace Family....
The Grace Family isn't complete without mentioning the wonderful addition to our family. These lovely ladies moved in with us 6 years ago:
The most awesome family any girl could ask for. I miss this crew
so
much.
Two weeks from today we will be reunited for Easter.
Can't. Wait.
P.S - Day 2 of
30 Day Shred
- Complete!! Tomorrow
will be
my official graduation to Day 3.
I am confident that our love is deep enough that the initial shock and hatred towards me for posting these pics is quickly forgiven. Mom and Sarah, please know this was out of pure love and because you are missed
that
much ;)